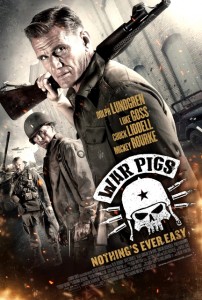 Since there can never be enough movies about good ol' Nazi killers, get ready for War Pigs, an upcoming action-war flick directed by Ryan Little (Saints and Soldiers series), about a rag tag unit of misfits known as the War Pigs, who must go behind enemy lines to exterminate Nazis by any means necessary.
War Pigs stars Expendable cast members Dolph Lundgren and Mickey Rourke. Joining them are Luke Goss (Tekken), Ryan Kelley (Terminator: The Sarah Connor Chronicles), Noah Segan (Django Lives!), Chuck Liddell (Cradle 2 the Grave), Jake Stormoen (Cyborg X) and Steven Luke (Dust of War).
Updates: First images ( Photo 1 | Photo 2) from War Pigs, courtesy of the movie's official Facebook page and Luke Goss' Twitter. | Three character posters, featuring Dolph Lundgren, Luke Goss and Mickey Rourke, courtesy of dolph-ultimate.com.
BREAKING NEWS: Check out the film's newest poster.