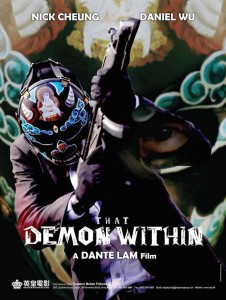 Dante Lam is arguably the leading action director in Hong Kong right now (sorry, Wilson Yip) thanks to movies like Fire of Conscience and The Stool Pigeon. Lam is a veteran of the industry going all the way back to 1998′s Beast Cops, but he's managed to invigorate his career of late by taking well-worn Hong Kong action tropes and reenergizing them with an immediate, Bourne-esque visual style.
Dante looks to be continuing this trend with his latest project, That Demon Within, which will also reunite the filmmaker with his frequent leading man, Nick Cheung. This time around, Nick Cheung is joined by Daniel Wu (New Police Story) as a paranoid cop convinced he's the only one who can see the dangerous crimes Cheung's character is committing.
Not to hedge our bets but with a premise like that it sounds like That Demon Within will feature plenty of tense, beady-eyed stand-offs between our two leads and a gun fight or two. Shooting on That Demon Within is expected to start this Winter with plans for a Summer 2013 release.
Update: Website JayneStars discusses the 'explosive' nature of the film's action sequences. One major setpiece had Dante Lam applying for a road closure permit 2 months before shooting began, with a budget of $1.5 million HKD to film a scene with major explosions and gunfire in only 3 days! The article also suggests Nick Cheung's character suffers from something of a split personality, as JayneStar says the role is like "two parts in one" for Cheung. | Twitch Film has the first piece of promotional art for the film and it looks like this is going to be one very grim affair!
BREAKING NEWS: Twitch premiered this new poster for the film, which at least somewhat brings to mind such movies as Point Break and Fulltime Killer.